Wear and tear is a central topic in the iron and steel industry.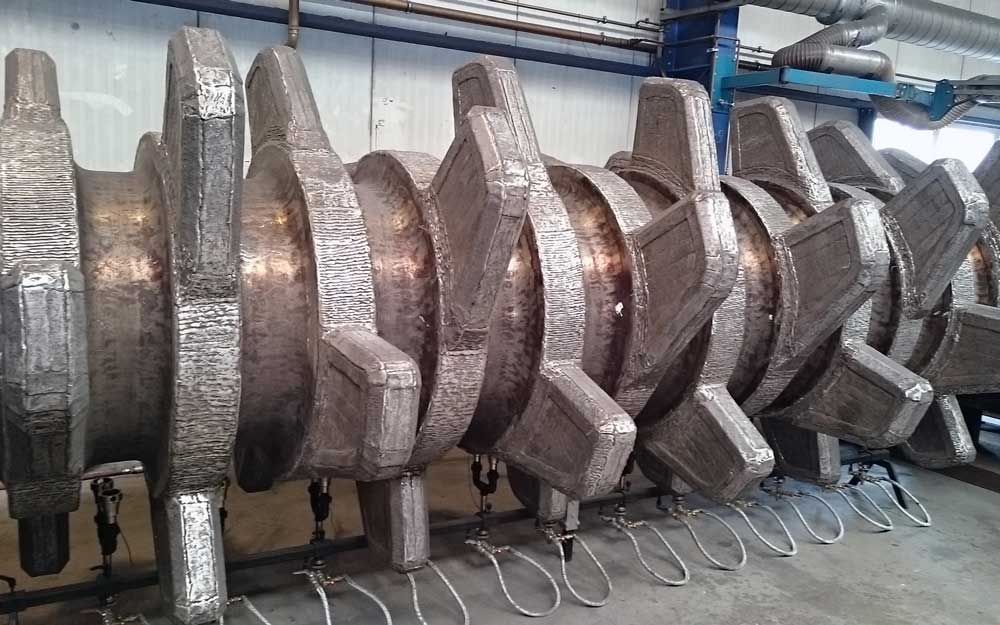 Investments into wear protection are needed in order to ensure uninterrupted plant operation. A robust wear protection of all plant component - including all parts downstream and upstream of the furnace - is an important economic factor in order to avoid production downtimes and guarantee a safe operation.
EIPA considers itself as an optimizer for plants in all production areas of the iron and steel industry - world-wide. EIPA wear protection solutions will support your process in any kind of area: from raw materials handling to slag granulation as well as further processing of raw iron.
EIPA offers optimal solutions for the following processes:
EIPA wear protection for coking plants
In coking plants, EIPA linings protect the storage and conveyance facilities from wear by offering wear parts such as chutes and raw coal bunkers linings. For the coke quenching process, the EIPA linings are used in order to ensure a sustainable protection of the quenching towers and coke ramps.
Other innovative products and proven materials by EIPA are successfully used during homogenization, i.e. crushing, milling, mixing, filtering, and the subsequent transport to the furnace or to the sintering plant.
EIPA wear protection for sintering plants
EIPA wear protection is also in use for chutes and screens which convey coke, ore and other aggregates onto the sintering belt. The requirements on wear protection in the sintering process of hot sinter are enormous due to the extreme operating temperatures and parameters.
As an economic solution, EIPA offers special materials which effectively protect exhaust hoods, chutes, dedusting plants and ducts.
EIPA wear protection for furnaces
EIPA has decades of experience in effective wear protection in furnaces and blast furnaces where uninterrupted operation is of the utmost significance. That includes seamlessly filling the furnace with the corresponding raw materials during which EIPA ensures proper and permanent functionality of the components in the bell and hopper. For gravity separators and cyclones which are responsible for dedusting the furnace gasses, the EIPA portfolio offers the perfect solutions.
Even for the new, coke-less processes for direct reduction with reduced CO2 emissions where first cold and then hot iron ore pellets are transported, EIPA is the right partner with the experience of robust wear protection.
EIPA wear protection for slag granulation
Slag is nowadays frequently granulated to slag sand and used as a replacement for clinker brick. Transporting the sand in the granulation tank and through hydraulic lines constitute additional requirements for wear protection.
The proven EIPA solutions provide optimal protection from abrasion to the components and ensure flawless and economical operation.
EIPA wear protection for electric steel works
EIPA has an extensive experience in wear protection for electric steel works world-wide and offers linings made of wear-resistant materials especially developed for this type of application.
For the operation of arc furnaces which are frequently used for finishing raw steel and during recycling, various operating materials are used, such as junk iron, alloys and auxiliaries or injected coal dust, which cause serious wear and tear in the connected conveyance systems and pipelines.
EIPA wear protection for continuous casting plants and hot rolling mills
Wear and tear is a constant companion during continuous casting or rolling processes for the production of blanks and slabs as well as billets and subsequent processing to profiles and sheets.
EIPA counters this effect with special wear protection solutions successfully. They are used in descaling equipment as well as plant components which regenerate and recycle the material.